Do you ever get tired of pasta?
True, it can be prepared a number of ways. With tomato sauce, with cream sauce, with fresh pepper and parmesan or served with vegetables.
But I turn to pasta so often. So here's my answer when you want and don't want pasta for dinner.
Gnocchi.
But not just any gnocchi. For this dish I add green peas and bacon (veggie bacon). For seasoning, herbs de provence.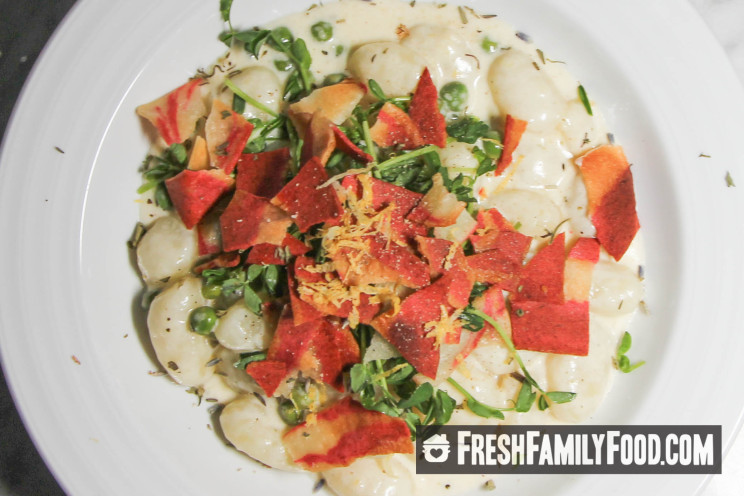 A touch of lemon brightens the dish, the veggie bacon a touch of salt, the herbs a delicate French taste and a handful of uncooked green pea sprouts adds a subtle touch at the end.
This dish is actually very straight-forward. Cooking the frozen peas with water and a pinch of salt in a Pyrex is super-fast by using low power in the microwave. The gnocchi takes just a few minutes to cook, just enough time to cook the sauce and veggie bacon.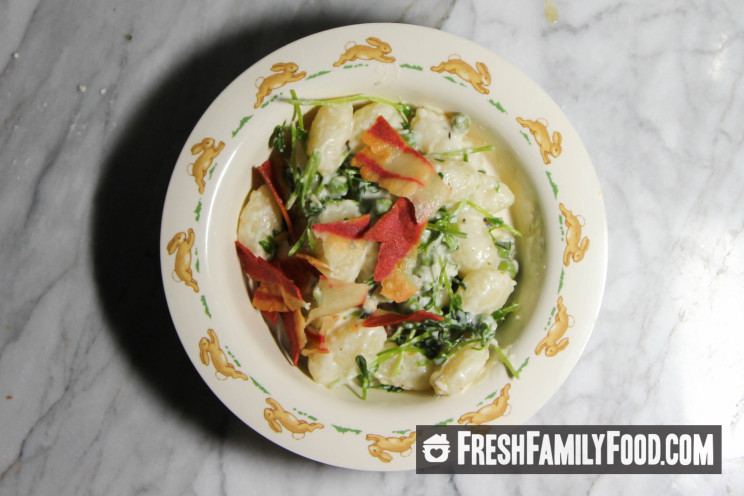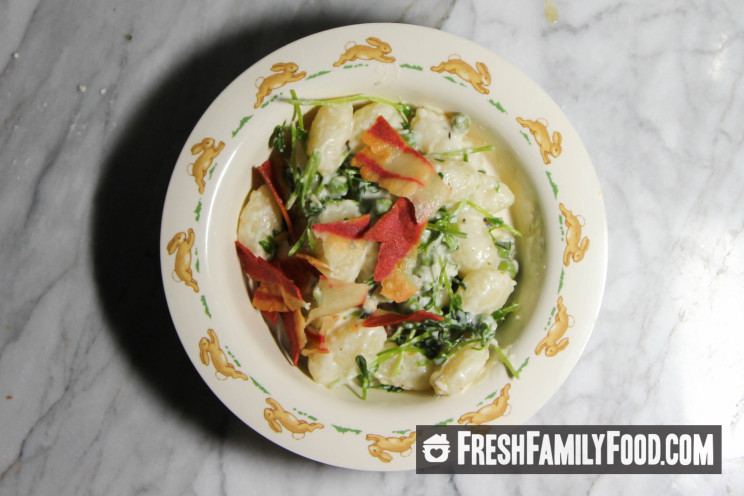 French pea & bacon gnocchi
2015-03-11 14:31:14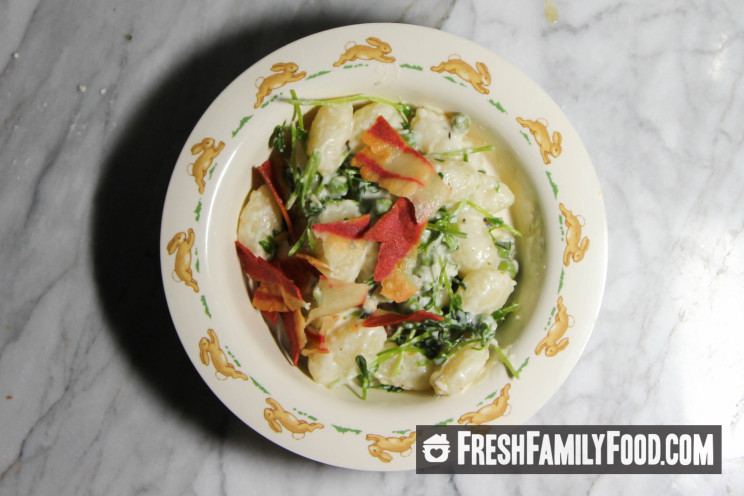 Nutrition Facts
Amount Per Serving
* Percent Daily Values are based on a 2,000 calorie diet. Your Daily Values may be higher or lower depending on your calorie needs.
Ingredients
Two packages gnocchi, about 32 oz total
2 cups cream
Salt and pepper to taste
2 lemons
1 tbsp herbs de provence
1 cup grated parmesan
1 clove garlic
2 cups frozen green peas
10 strips veggie bacon
1 cup green pea sprouts (optional)
Instructions
Set water to boil in a large pot. Pour 2 tbsp of canola oil in a skillet to cook the bacon. Pour 2 tbsp olive oil in a small saucepan with the clove of garlic on low.
Place the peas in a larger glass container and fill with water to the top of the peas and add a pinch of salt. Cook in the microwave on low power for 2-5 minutes, depending on your microwave. Check often to make sure the peas do not overcook.
For the sauce, only simmer on low. Once the garlic and olive oil have heated for a minute, add the cream, lemon zest and juice, salt and pepper and herbs de provence.
When water boils, cook the gnocchi for just a few minutes, until the pieces all float to the surface. Cook the veggie bacon according to the package instructions.
Mix all ingredients, except for the parmesan and fresh green pea sprouts. When plating, add the sprouts and cheese on top.
Fresh Family Food http://freshfamilyfood.com/