Isn't tortilla soup one of the best things ever? Warm soup with what is practically nachos piled on top?
But us veggies get left out a little bit. Everywhere you look there's chicken tortilla soup. And the recipes just don't work in the taste or nutrient areas without the chicken. So I made my own.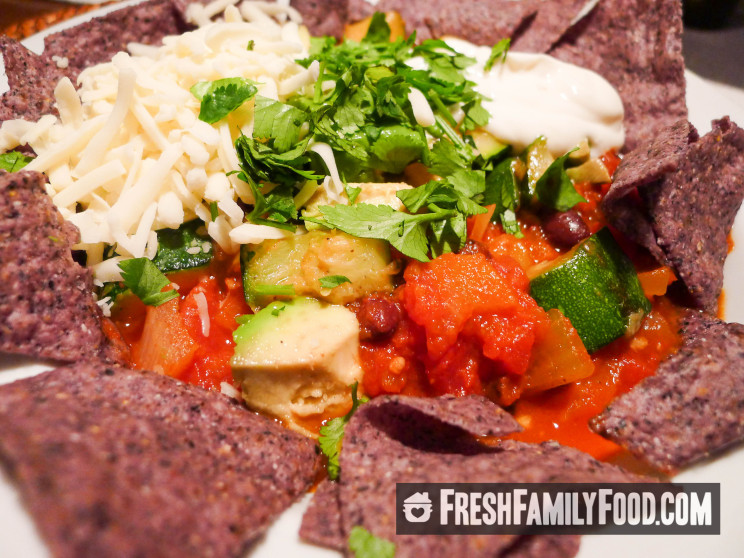 I've been experimenting over the years with trying to make a yummy tortilla soup. They always tasted too bright, without enough savor. Too watery. Too much like tomato-lime broth over nachos.
Until I found the right additions: zucchini and black beans.
Just make sure that you start the cooking process by busting out some chips and salsa. It holds you over, and your family, while you let this soup simmer and meld all the flavors together (it'll taste even better the next day).
I also always recommend a cold brew. Oh, and don't forget to get your own chips and salsa for in the kitchen.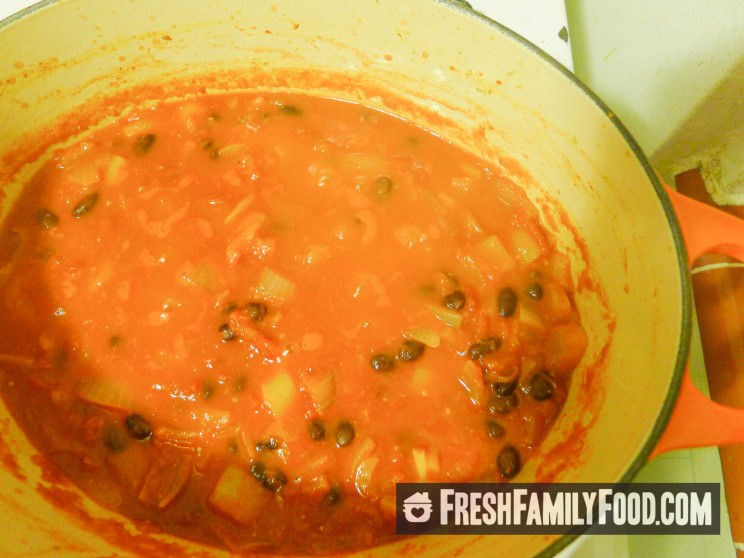 This soup is also toddler-ready. Only some diced green (hatch) chilis, pureed for spread-out subtle heat rather than a big bite of chili that could result in tears. But don't fret adults, some hot sauce on top heats this soup up for even the spiciest of tastes.
Some yellow bell pepper also joins in with the onions, to mellow out with an initial sweating of ingredients (cooking them until translucent). The black beans, once rinsed, add protein and savory flavor.
But don't forget all the toppings. Sure I've had times where I've had this with nothing but tortilla chips. But trust me, some jack cheese (cotija would also be lovely), minced cilantro and greek yogurt (more protein and a tasty sour cream substitute) all really make this soup pop.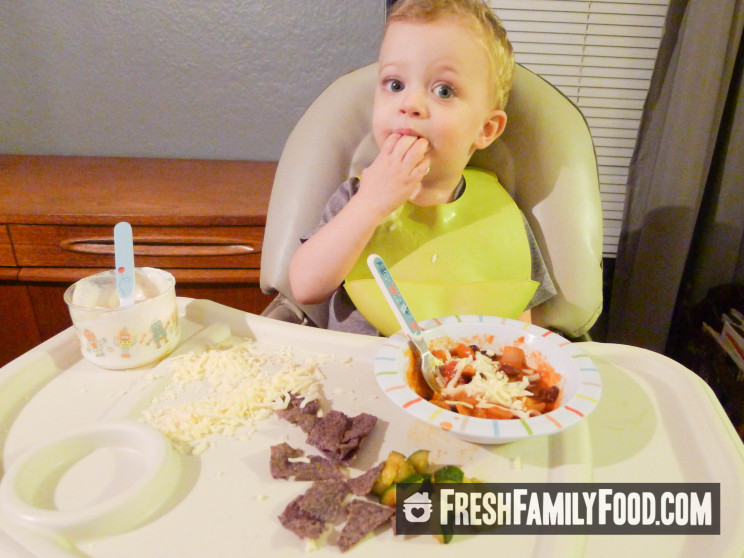 Plus, it was finger-looking good for my little boy! I almost always present him the same food as me, but broken up (for this, I had just the cheese and then just the soup and then just the zucchini, so he can pick and choose what he likes).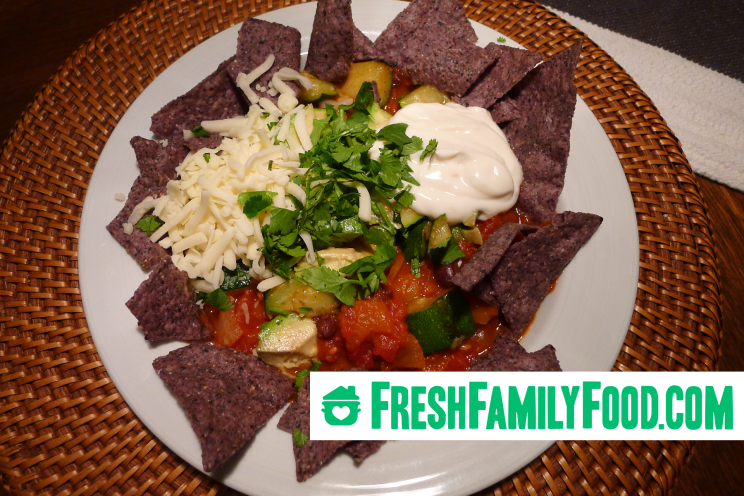 Vegetable tortilla soup
2015-02-09 13:53:51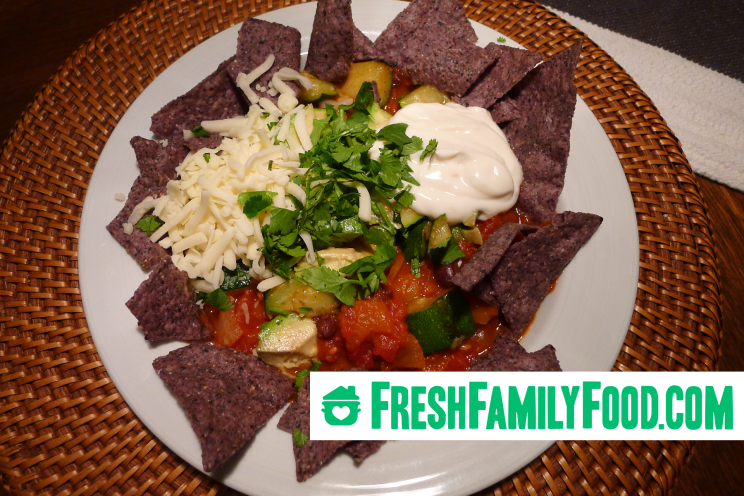 Serves 8
Nutrition Facts
Amount Per Serving
* Percent Daily Values are based on a 2,000 calorie diet. Your Daily Values may be higher or lower depending on your calorie needs.
Ingredients
28 oz can crushed tomatoes
4 oz can diced green (hatch) chiles
1 yellow bell pepper
1 medium brown onion
4 zucchini
15 oz can black beans
4 tbsp cilantro
1 cup greek yogurt
1 cup jack cheese
4 tbsp olive oil
2 limes
3 cloves garlic
Salt and pepper to taste
1 tsp sugar
2 avocados
1 cup tortilla chips
Instructions
Clean all the veggies. Open all the cans.
Chop the bell pepper, onion and zucchini. Keep the zucchini separate.
Mash the garlic cloves and green chiles together either using a mini food processor or a fork.
Soak the black beans in a 2 cup measuring cup or a bowl with water and a pinch of salt.
With half the olive oil, start heating the green chile-garlic blend in a deep pot. Once sizzling, after about a minute, add the bell pepper and onion. Cook over low heat and add a lid to keep the moisture in. Once translucent, add the can of tomatoes and teaspoon of sugar.
In a skillet, saute the zucchini with salt and pepper. Cook over low-medium heat until most of the edges are golden brown.
After 20 minutes of the combined soup simmering, strain the black beans and add in along with the juice of one lime. Be gentle, or the whole soup will turn an unappetizing shade of brown. Simmer for another 10 minutes.
Serve the soup! Ladle the soup in a bowl and top with some zucchini (you don't want it to get watery by adding it earlier). Top with tortilla chips, greek yogurt, a squeeze of lime, jack cheese, cubed or sliced avocado, cilantro and (if you want it) hot sauce!
Notes
MAKE IT EASY OPTIONS
- Rather than cleaning and chopping zucchini, just add in some frozen (but thawed) veggies such as corn.
- You really don't NEED all these toppings, so either only put on the toppings you really love OR make sure to use the same ingredients other nights of the week (such as the cilantro or greek yogurt). Avocado is probably the most expensive ingredient here, so feel free to skip that on a penny-pinching week (we've all been there).
PARENT-TO-PARENT TIPS
- Consider serving each element separately, in case your toddler doesn't love it all.
- Get the soup to cool down fast by putting a small amount in a heatproof (like melamine) bowl in the fridge. Keep checking back to stir it with a spoon. It'll cool down faster than sitting out, letting your toddler enjoy it as soon as they sit down at the table (rather than making them wait, and wonder why they can't eat it right away).
Fresh Family Food http://freshfamilyfood.com/