Oh the joys of feeding a toddler (speaking of which, that's my toddler in the photo, enjoying chocolate ice cream in his first visit to Disneyland).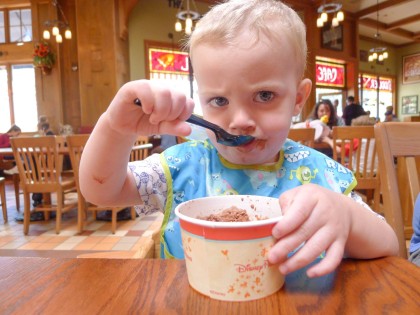 Actually, the joys in attempting to get your toddler to eat anything.
Not quite a baby. Not quite a child. It's that in-between time that leads to confusion and frustration for you and your child on how to deal with daily life.
Let's just get this out of the way first: do not believe that my child eats everything I make. In fact, he takes the BBQ-grilled pizza that my husband and I made from scratch for hours and chucks it against the wall.
It's frustrating. It's more than frustrating.
A toddler who refuses to eat (which is every toddler at some point) makes a parent worry about nutrition. It makes you wonder just how much protein is in those cute little yogurt-covered cookies.
Here are my tips on getting a toddler to eat: