There is something amazing about freshly baked bread.
The soft, chewy texture. The sweet smell wafting out of the kitchen. The golden brown crust.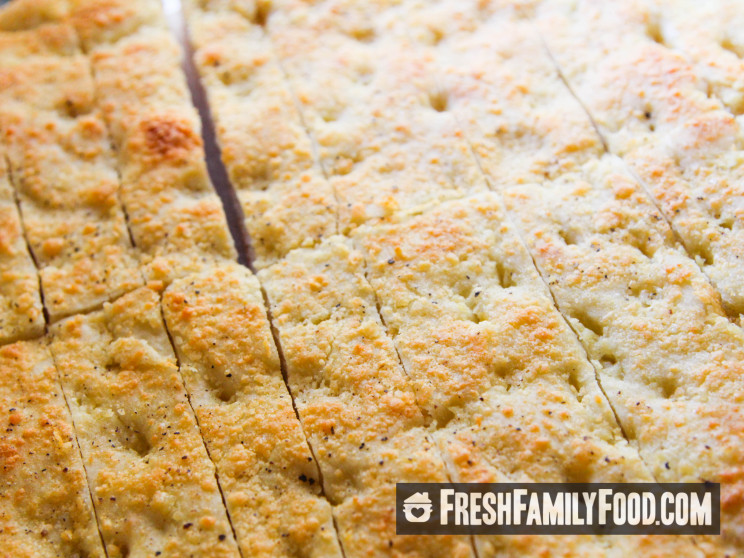 Add garlic and parmesan to the equation and well, you have yourself a wonderful dinner. Especially a nice surprise for your family when they may only expect traditional spaghetti and marinara.
But you're thinking. Oh no, I can't make bread. Don't worry. Making focaccia is very easy and very forgiving. The only need is for some warmth (something we have an abundance of in a California summer) to let the bread rise.
Focaccia is almost just like making pizza dough. In fact, my recipe is based on a collection of pizza dough recipes I've tried – experimenting every Sunday with grilled pizzas. But focaccia is hand-dimpled and lighter than pizza crust.
This is an especially easy dish to make for a dinner party. Easy to transport if bringing to a friend's house. And easy to serve at home because you can make the dough, let it rise and all you need to do once company arrives is bake the bread. And there's something so sweet about making something from scratch for family or friends.
The No. 1 thing to remember when making this recipe is to let it rise. Don't rush the rising. But, if you find it not rising make sure to get it in a warm spot. I usually set mine over a heating oven on a dish towel. A spot in the sun will do just as nicely.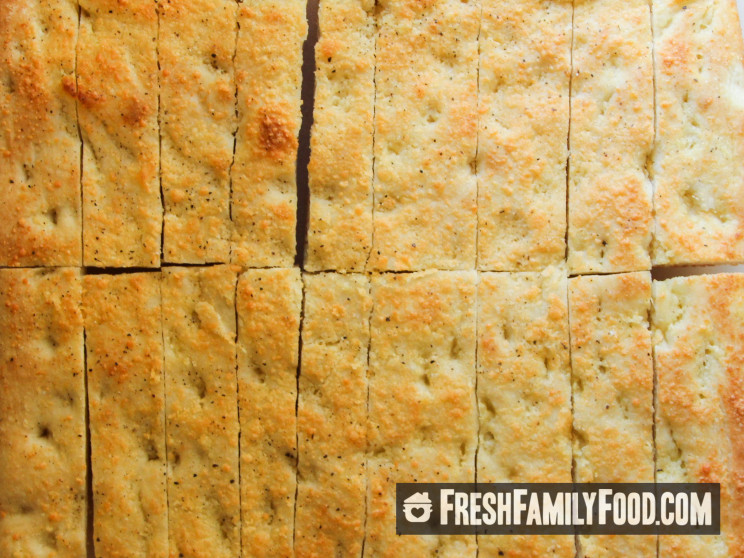 My No. 2 tip is to let go of the rest of your meal. Buy your favorite pasta sauce rather than making it from scratch (just make sure to grab extra for dipping your homemade breadsticks). If you are a busy parent, or just a busy person, making just one element of dinner from scratch can transform a meal. All without the extra dishes and stress of trying to do everything.
Feel free to change up the focaccia topping. For a Parisian treat, add Herbs de Provence and sea salt and serve with pasta primavera. For a cheese lover, mix a bit of mayonnaise with some butter and a good helping of freshly grated cheeses. For a light dinner, serve the focaccia as the main dish by baking with tomato slices and a sprinkle of cheese and then top with a lightly-dressed salad.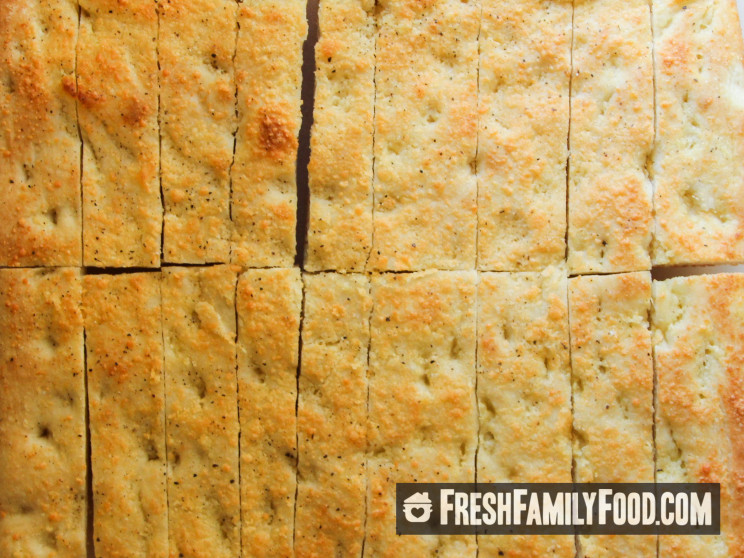 Made-from-scratch garlic and parmesan focaccia
2015-08-04 17:11:32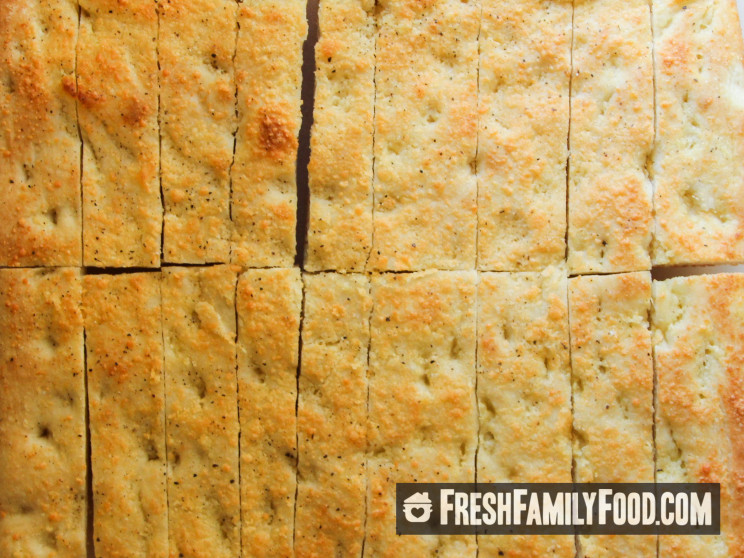 Serves 6
Nutrition Facts
Amount Per Serving
* Percent Daily Values are based on a 2,000 calorie diet. Your Daily Values may be higher or lower depending on your calorie needs.
Ingredients
1 tablespoon yeast*
1 tablespoon sugar
1/2 cup warm water**
3 cups all-purpose flour***
1 teaspoon salt
1/3 cup olive oil
Instructions
Pour the warm water in a bowl. Stir in the sugar. Once dissolved, gently stir in the yeast. Leave it to activate. After 5-15 minutes, the mixture should be foamy, indicating the yeast is beginning to work.
Mix in the salt and olive oil. Then add the flour, 2 cups to start. Mix by hand or with a dough hook on a stand mixer. Add more flour, as needed, to yield a unified dough ball. The dough should come together and be shiny and a bit tacky, but not sticky. Form into a ball.
Place in an oiled bowl. Cover with a wet dish towel or plastic wrap misted with oil.
Leave to double in size. This should take about an hour.
Add olive oil (not flour) to your rolling pin and board. Roll out the dough into a size that will fit your baking sheet. Transfer to your baking sheet and continue stretching out to get it to fit. Using your fingertips, make dimples in the dough. Add whatever flavorings you would like (except for any heavy toppings such as tomatoes).
Leave the bread to rise again. A half hour will work, but an hour will yield lighter results. If adding heavy toppings, add those now.
Bake at 400° for 10-15 minutes, or once golden brown.
After about five minutes, transfer to a cutting board. Use a pizza cutter to divide into breadsticks.
Notes
*Invest in some good yeast. Yes, you can buy and use the little yeast packets. But sometimes they may not have been stored well, and the yeast may not activate. The cheapest and best option, if you like to make bread, is to invest in a big block of yeast sold at a cooking store or at some grocery stores.
**If the water is too cold, the yeast will not activate. If it's too hot, the yeast will die. The optimum temperature is 105°F. For best results, use a thermometer to check your water so you can get a feel for the right temperature.
***You may need more or less flour, depending on the weather and how you measure flour. Adding the right amount to your dough gets easier with practice. But if you are just starting out on baking bread, add a little flour at a time and that should help.
Fresh Family Food http://freshfamilyfood.com/