Give your child the gift of healthy avocados by making some super fast guacamole.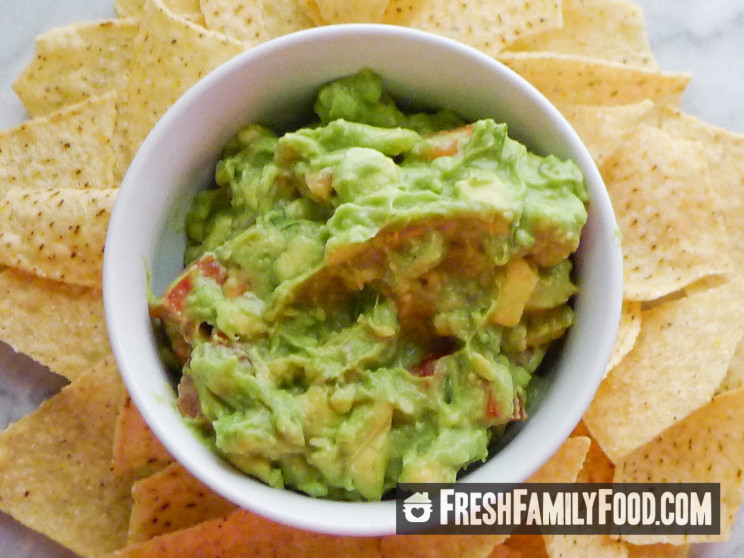 Now spice-loving, Mexican-food-purists might get upset. This guacamole contains no spice. Not one little bit. My little boy is pretty sensitive to spicy food and it makes it easy on his whole system to avoid chili peppers.
Feel free to add diced fresh or roasted hatch chiles or jalapeños. You can make a separate chili-free batch just for your little ones or pile it on for spice-loving kids. Around here it's easier to make just one big batch of guacamole and then add hot sauce on our individual plates.
If you're worried about the calories in this green fruit, just check out this article talking about the health benefits of avocado.
This recipe relies on just the basics to let you quickly make a fresh and healthy dip!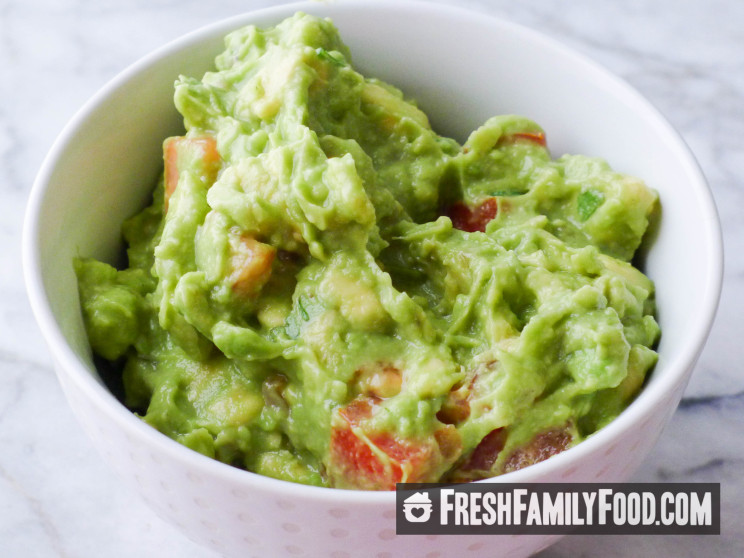 Here are some tips before you read the recipe:
To make chunky guacamole (easier for little hands to grab and eat), first cut your avocado in half and remove the center. Using a table knife (most regular knives could cut all the way through to your hand) grab half of the avocado and make slices one direction and then the other. Use a regular spoon to scoop out the now cubed avocado.
You'll only need a little bit of cilantro for the recipe. Buying a huge bunch of it at the store (the only way it comes, usually) can be expensive if the rest goes to waste. Option 1: grow your own cilantro for when you need just a bit (but mine always seems to die). Option 2: buy the big bunch and plan other uses of the cilantro, like making cilantro-lime rice. Option 3: buy Dorot cilantro (little frozen cubes of the herb).
If you have a brand new table food eater, skip the tomatoes. You'll be left with a perfectly acceptable introduction to avocado. Introducing babies to spices as soon as you introduce them to food will get them accustomed to interesting and diverse flavors.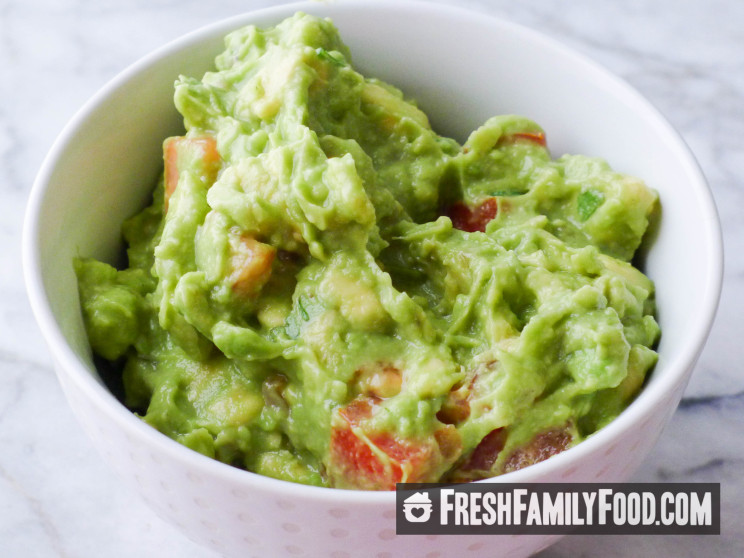 Fresh and easy guacamole
2015-06-26 16:14:31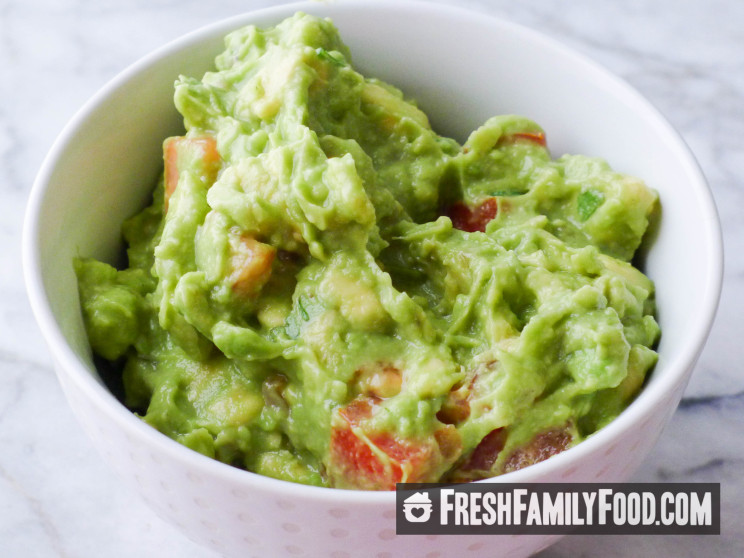 Serves 4
Nutrition Facts
Amount Per Serving
* Percent Daily Values are based on a 2,000 calorie diet. Your Daily Values may be higher or lower depending on your calorie needs.
Ingredients
4 avocados, cubed
1/2 cup diced tomatoes (or halved grape/cherry tomatoes)
Juice of 2 limes
2 tbsp minced cilantro
Salt and pepper to taste
Instructions
Cube avocados.
Dice or halve tomatoes.
Mix ingredients gently with a spoon or fork.
Fresh Family Food http://freshfamilyfood.com/