People love to hate on Brussels sprouts.
Green and usually steamed, these healthy veggies are a common reminder of "finish your plate" battles between parents and kids.
But these green things are healthy, offering in one serving 125 percent of one's vitamin C daily needs and 195 percent of the vitamin K daily amount.
But how can you get kids to eat these if most adults won't eat them willingly?
One word: pizza.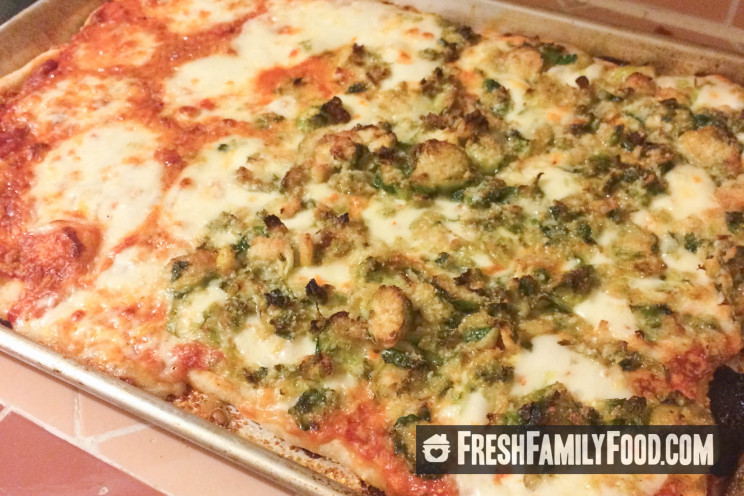 Yes, some pizza crust, tomatoes and cheese are a delicious vehicle for delivering Brussels sprouts. Especially when those sprouts are shredded and seasoned with lemon and parmesan.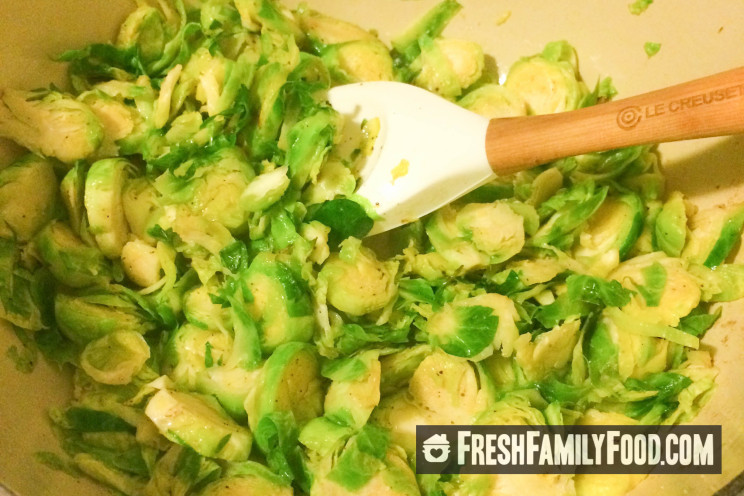 In this recipe, I make the whole process easier by offering it as a one-ingredient cooking dish. That means you can make a complex meal easy by buying some ready-to-cook items and then cooking one thing from scratch.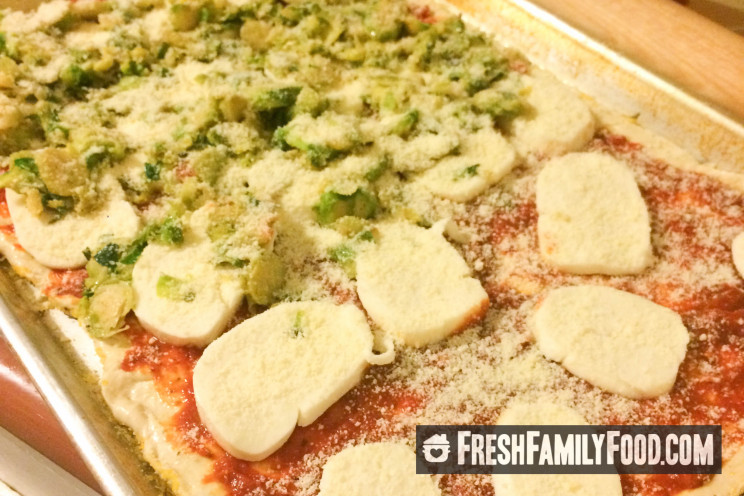 If you have a baby taking a longer nap than normal, feel free to really go for it and make the pizza dough from scratch (I'll post on that later) or make your own tomato sauce.
I'm not going to guarantee that your child will suddenly beg for Brussels sprouts at every meal. But, my little Jack enjoyed every bite of his sprouts (and pizza).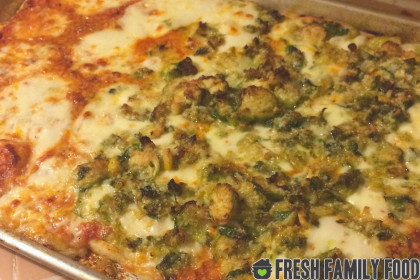 Eat your Brussels sprouts pizza
2015-01-25 23:40:06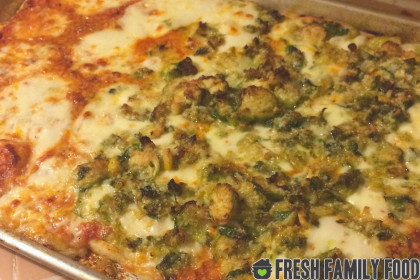 Serves 4
Nutrition Facts
Amount Per Serving
* Percent Daily Values are based on a 2,000 calorie diet. Your Daily Values may be higher or lower depending on your calorie needs.
Ingredients
Pizza dough
1 cup Tomato sauce
1 cup Mozzarella
1 cup Brussel sprouts
1 lemon
1/3 cup parmesan
2 cloves garlic
Salt and pepper
2 tbsp cornmeal
4 tbsp olive oil
Instructions
1. Set your oven to 450°. Take a baking sheet and sprinkle on the cornmeal along with a bit of salt and pepper. On a wood block or marble board, roll out the pizza dough. Transfer to the baking sheet to let it rise a bit while you make the rest.
2. Wash your Brussels sprouts. Slice into thin strips.
3. Heat up half of the olive oil along with the garlic. Add the Brussels sprouts and saute uncovered on low-medium heat. Once translucent, add the zest and juice of the lemon, the parmesan and a pinch each of salt and pepper.
4. Drizzle the other half of the olive oil on the dough. Place in the oven for 5 minutes, to par-bake the dough (or else it won't all cook once all the toppings are on).
5. Spread the tomato sauce on the now par-baked dough. Layer on the mozzarella (slices or shreds, up to you). Layer on the Brussels sprouts. Bake for 10-20 minutes, once the edges are golden and bounce back when pressed.
Notes
MAKE IT EASY OPTIONS
- Check and see if you can find pre-shredded Brussels sprouts, it'll save heaps of time. Just make sure the sprouts are fresh.
- One of those cans of pizza dough can also be substituted for a ball of pizza dough. Just read the ingredients, lots of those packages contain preservatives or trans fats (listed as partially or fully hydrogenated oil).
PARENT-TO-PARENT TIPS
- Worried your kid won't eat the sprouts? You can do what I did and put the sprouts on only half the pizza. Serve yourself the sprouts side and your kid the plain cheese side. Lots of the time your kid will want what you have and will actually ASK you for the sprouts pizza!
- Rolling out pizza dough is a really fun part of the recipe for kids to help. If you cool the par-baked dough enough, you can also let tots help spread the tomato sauce, cheese and (IF COOL) the sprouts.
- Feel free to use this (pizza) trick to incorporate other veggies that your tot has either sworn off or you happen to have on hand. Lemon, parmesan, salt and pepper are an amazing combo on most veggies so feel free to use the same base recipe.
Fresh Family Food http://freshfamilyfood.com/