Eating a sustainable diet doesn't just mean recycling paper food boxes. It also means eating what is in season.
And in the cold winter time, squash and oranges are two of the yummiest things on the list.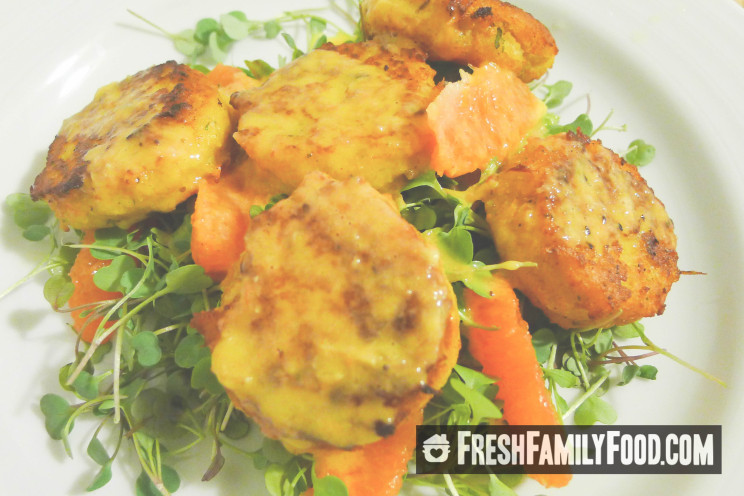 I found this Sunset recipe that combined those two ingredients for the cutest little fritters. I modified the recipe a bit, though, to make it a tad more kid-friendly. Cut out the hazelnuts and red pepper flakes, add in some citrus dressing.
You could also make this dish work for the earliest of eaters. For tots takingit one food at a time – put some of the squash in a blender (maybe along with a touch of ginger) and blend for instant (and delicious) baby food.
I also added some onion and ginger to the recipe. The onion roasted with the squash to add some depth of flavor and the ginger added a touch of zing without spice.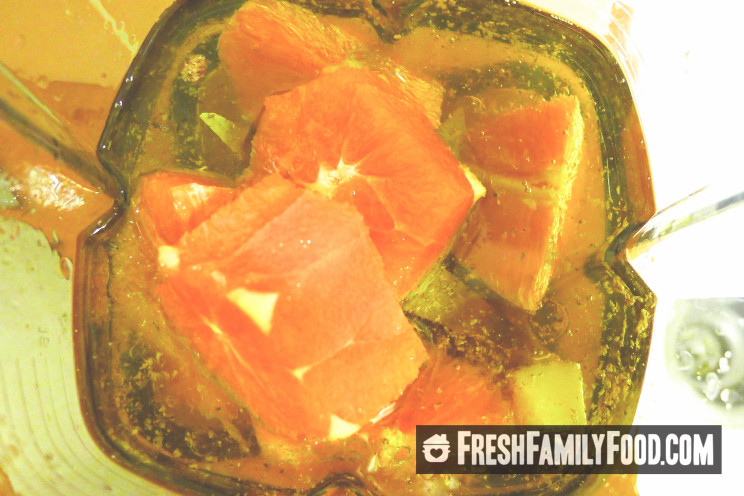 I made the citrus dressing with just peeled oranges, ginger, olive oil, apple cider vinegar, salt and pepper.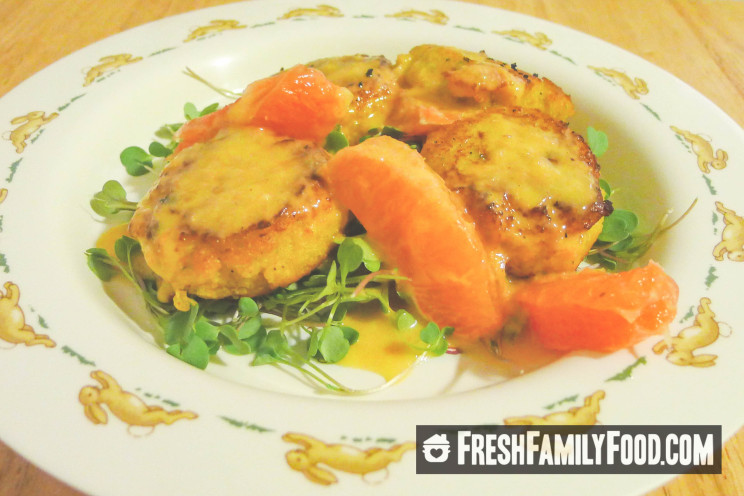 I used adorable mini arugula leaves I found at the store, but you can use any greens you'd like. The important thing is that you use small-leafed greens or you chop up lettuce really well. This way your kid finds fun, small bites of greens well dressed in citrus — making them more likely to eat more than just the fritters.
Orange-dressed squash fritters
2015-01-28 12:45:12
Serves 4
A toddler-friendly version of a Sunset magazine recipe.
Nutrition Facts
Amount Per Serving
* Percent Daily Values are based on a 2,000 calorie diet. Your Daily Values may be higher or lower depending on your calorie needs.
Fritters
2 cups butternut squash
1 white onion
1 egg
1 can drained chickpeas
2 tbsp cup olive oil
1/2 cup bread crumbs (add more, if too moist)
2 cups small greens (mini arugula used here, or chop up Bibb lettuce)
1/4 cup canola oil
1 tsp ginger
2 cloves garlic
Generous pinch each of salt and pepper
Dressing
2 oranges
4 tbsp cup olive oil
1 tbsp apple cider vinegar
1 tsp ginger
Salt and pepper to taste
Fritters
Cut up the butternut squash. It's easiest to shave one side first, so the squash then lays flat for the other cuts. Make sure to get to just the orange flesh, scoop out the middle and cut the squash chunks.
Chop up the onion.
Throw the squash, onion, ginger, salt and pepper and a drizzle of olive oil on a baking sheet. Put in a 450° oven for 30 minutes, or until golden brown. Halfway through turn all the fixings, so they brown evenly.
Throw everything from the baking sheet into a food processor (you could also use a fork) and mix together with the chickpeas, egg, olive oil and bread crumbs.
Heat up the canola oil. Scoop up the squash mixture and form into little patties. Fry them up, for about 3-5 minutes each side. Let rest on a paper towel to drain off the extra oil.
Dressing
Peel the oranges (I used a paring knife, cutting off both ends, then cutting down the sides at an arc). Cut out a couple segments for adding straight to the plate.
Throw the oranges, vinegar, ginger, salt and pepper into a blender. Blend until smooth. Add in the olive oil and blend again until smooth.
Put it together
Arrange the greens on each plate.
Place the fritters on top.
Dress with a couple orange segments and drizzle on the dressing.
MAKE IT EASY OPTIONS
- Buy pre-cut squash (it'll cost more, but will save you time).
- Use orange juice instead of peeling oranges (it'll be thinner and you'll get less of a nutrition benefit, but it saves some time and you won't need a blender).
PARENT-TO-PARENT TIPS
- Can't spend a stretch in the kitchen for what this dish needs? Consider roasting the squash and onion the night before or during the day when your child is napping. Then you'll just need to fry them up later.
- For picky eaters, have them "help" you make this meal. They can drain the chickpeas, peel the oranges and form the fritters (but make sure they don't snack while forming the patties - they contain egg to hold it together). Sometimes seeing the source of the food (the whole orange, rather than just dressing) helps finicky eaters to not be scared of the food. Plus, who would resist a meal they helped make?
Adapted from Sunset magazine
Fresh Family Food http://freshfamilyfood.com/